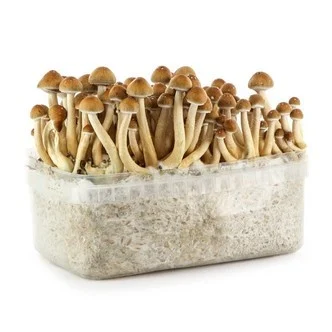 Buy magic mushroom grow kits GetMagic
The GetMagic magic mushroom grow kits to grow your own psilocybe cubensis mushrooms. GetMagic grow kits seems new but are around for ages, it's production method is proven and not changed. We call it the layer method. Perlite on the bottom, substrate in the middle and a vermiculite top layer to seal the deal.
Grow multiple flushes of the mushroom strain of your choice with the GetMagic mushroom grow kit
Your GetMagic mushroom grow kit contains:
Container with 100% mycelium colonized rye substrate, perlite and vermiculite layers
Growbag with filters
Paperclips
The GetMagic cubensis grow kits are available in two sizes: The normal 1200 ml kit and the XL 2100 ml grow kit.
Grow enough active mushrooms to provide yourself for weeks of micro-and macrodosing with the 1200 ml Normal grow kit. Very easy to set up and grow
With more then 2 liters of substrate the GetMagic XL kit is like a train: it needs some time to get going, but it will get you were you need to be every time. You provide the optimal growing conditions and this kit will flourish and keeps on giving. Between 2-4 weeks you will have a harvest that takes you to all dimensions.
Just Soak 5 minutes and grow!
Read, download or watch the GetMagic Magic Mushrooms kit instructions before use.